Top Three Reasons to Celebrate the Feast of Sts. Peter and Paul
This was the scene at Chicago's Grant Park yesterday, when thousands of Blackhawk fans gathered to celebrate the team's recent Stanley Cup victory over the Boston Bruins: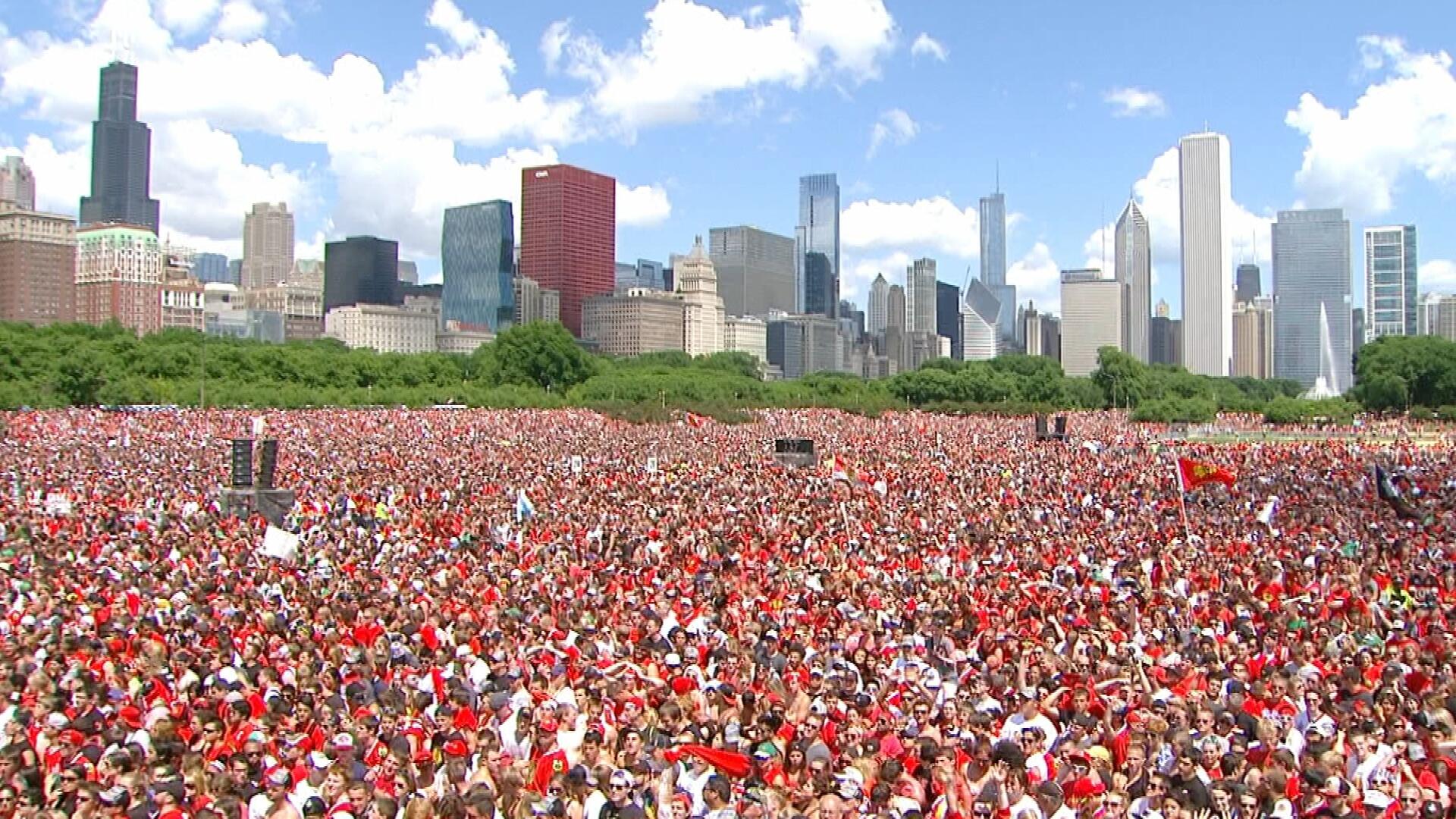 The team (and cup) rode a bus through the city, greeted by mobs all along the route:
Now, imagine behind that bus was one carrying the Blackhawks' archrival team — the Detroit Red Wings.
Probably not a good idea. The best-case scenario would be lots of peaceful booing. Honoring two archrivals on one day with one event doesn't make much sense.
I wonder what Saints Peter and Paul think about today's Feast as they look down at us from Heaven. By most accounts, they didn't get along too well in those first days of our Church's history. They were rivals, in a way — maybe not Blackhawk/Red Wing-level rivals, but definitely not close friends. And now, on one of the most important feast days in our church year, we celebrate both of them at once. This is a prophetic celebration that intrigues me for three main reasons.
1. The Feast celebrates our Catholic traditions of intellectual inquiry and creative tension.
The most interesting evidence of the Peter/Paul rivalry is found in Paul's Letter to the Galatians, when he describes what is called the "Incident at Antioch." Peter argued that any Gentiles coming into the Christian flock should be circumcised and follow Jewish Law before admittance. Paul disagreed, to put it mildly. He writes: "And when Cephas (Peter) came to Antioch, I opposed him to his face because he clearly was wrong." Paul argued that faith in Christ was enough, and that Gentile should not have to follow the Mosaic Law to become Christians.
This was a big debate as the early Christians struggled to work out just what it meant to be part of the community. Ultimately, Paul's position won the day, and Peter agreed to it. But the incident is evidence that saints in our tradition have disagreed with each other about theology and pastoral practice — even to each other's faces.
As we face so many thorny theological and political issues of our own time, Peter and Paul remind us that it's OK to grapple with big questions and even disagree from time to time, as long as we do so with respect,  honesty, and a willingness to admit when we're wrong.
2. Despite a big disagreement, Peter and Paul stuck together and used their unique gifts to build up the church.
Church tradition has it that after their spat at Antioch, Peter and Paul taught together in Rome and brought Christianity there. I wonder what it would've been like to have taken a course co-taught by these two saints.
Paul would probably talk about the importance of keeping mission at the forefront. His would be big, inspiring, vision-oriented lessons, with not much about the particulars. Just get moving and spread the good news.
Peter would probably focus more on organization and management. As a former fisherman, he would know the importance of detail and hard, sustained work — skills that would've come in handy as the first leader of the church.
The key is that we needed all of those traits in the early church, and we need them all now. Today's feast is a call for all the baptized to use our God-given gifts in the service of others. This very idea, of course, comes from Paul: "There are different kinds of spiritual gifts but the same Spirit; there are different forms of service but the same Lord…" Or, in the words of contemporary theologian Frederick Buechner, "Vocation is the place where our deep gladness meets the world's deep need."
3.  Peter and Paul both teach that Christian faith must be characterized by self-giving love, especially toward the most vulnerable.
Even with their divergent approaches and skill sets, the faith that Peter and Paul describe in their epistles is marked by self-giving love, especially when it would be easier to give up.
For instance, in his first letter, Peter writes, "Above all, let your love for one another be intense, because love covers a multitude of sins. Be hospitable to one another without complaining. As each one has received a gift, use it to serve one another as good stewards of God's varied grace." That sounds a lot like the First Corinthians passage above.
And in his letter to the Romans, Paul writes, "If possible, on your part, live at peace with all. Beloved, do not look for revenge but leave room for the wrath; for it is written, 'Vengeance is mine, I will repay, says the Lord.' Rather, 'if your enemy is hungry, feed him; if he is thirsty, give him something to drink; for by so doing you will heap burning coals upon his head.' Do not be conquered by evil but conquer evil with good."
In the end, the rivalry between Peter and Paul gives way to common mission and faith. They might not have been best friends, but their shared devotion and mutual respect sparked the spread of the Gospel throughout the world.